Jims Recipes
Cool Links
Guestbook
How to Meditate
Buddhist Links
Bodybuilding
Jokes & Games
There is a very, very tall coconut
tree and there are 4 animals,
A Lion

, A Chimp
, A
Giraffe

,
A Squirrel

They decide to compete to see who is the fastest to get a banana off the tree.
Who do you guess will win?
Your answer will reflect your personality.
So think carefully . . ...
Try and answer within 30 seconds.
Got your answer?
Now scroll down to see the analysis..
Chimpanzee = you're dense.
Giraffe = you're a complete moron..
Squirrel = you're hopeless.
A COCONUT TREE DOESN'T HAVE BANANAS.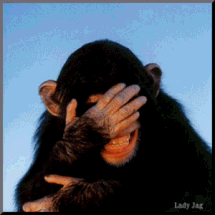 Obviously you're stressed and overworked.
You should take some time off and relax
now hurry up and forward it to someone....
Home Page | Jokes & Games | Jim's Recipe Page | Cool Links | Contact Us


CA License # 0383850
© 1995 Barricks Insurance Services. All rights Reserved
Phone 1-877-Look4Life (1-877-566-5454) | Fax: (760) 433-0304