s
e
a
f
o
o
d
S
Broiled Salmon Steak
1 serving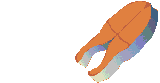 vegetable oil spray
1/2 pound 3/4 inch thick salmon steak
salt and pepper
1 Tablespoon melted Fleischmann's
margarine
1/4 teaspoon grated lemon rind
1 Tablespoon lemon juice
1 Tablespoon fresh dill weed, chopped
(or 1/2 Tbs dried)
2 slices lemons
Line a broiler pan with aluminum foil and spray with vegetable oil spray. Sprinkle the salmon on both sides with salt and pepper and arrange it on the foil. Mix the butter, lemon rind, lemon juice and dill, and brush some on the fish.

Broil about 3-5 inches from the heat for 5 to 6 minutes, or until slightly browned. Brush again with the butter mixture, turn carefully and brush the other side with the butter mixture. Broil for another 5 to 6 minutes, until fish flakes easily with a fork.

Brush with any remaining butter mixture and garnish with the lemon slices.
Nutrition Facts
Amount Per Serving: Calories 515 - Calories from Fat 278
Percent Total Calories From: Fat 54%, Protein 36%, Carbohydrate 10%
Totals and Percent Daily Values (2000 calories): Fat 31g, Saturated Fat 7g, Cholesterol 150mg, Sodium 504mg, Total Carbohydrate 12g, Dietary Fiber 1g, Protein 47g, Vitamin A 1098 units, Vitamin C 78 units, Calcium 0 units, Iron 2 units

Bon appetit!