s
e
a
f
o
o
d
S
Salmon Steaks with
Lime Cilantro Butter
2 servings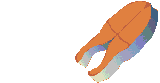 1 pound salmon steaks (2)


MARINADE:
2 Tablespoons fresh lime juice
2 Tablespoons soy sauce
2 Tablespoons vegetable oil


BUTTER:
1/4 cup margarine or butter, melted
2 teaspoons fresh lime juice
1 Tablespoon chopped fresh cilantro
In a small bowl, combine all marinade ingredients. Place steaks (or filets) in a shallow non-metal contained; pour marinade over fish, turning to coat both sides. Cover, refrigerate 30 to 60 minutes. In a small bowl, combine all butter ingredients, set aside.

When ready to barbecue, place fish on medium high coals. Cook 4 minutes on each side, or until fish flakes easily with a fork Salt and pepper to taste. Serve with lime cilantro butter.
Nutrition Facts
Amount Per Serving: Calories 538 - Calories from Fat 338
Percent Total Calories From: Fat 63%, Protein 35%, Carbohydrate 3%
Totals and Percent Daily Values (2000 calories): Fat 38g, Saturated Fat 7g, Cholesterol 150mg, Sodium 1137mg, Total Carbohydrate 3g, Dietary Fiber 0g, Protein 47g, Vitamin A 1053 units, Vitamin C 15 units, Calcium 0 units, Iron 2 units

Bon appetit!