s
e
a
f
o
o
d
S
Superb Salmon Loaf
4 servings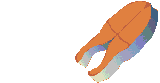 The leftovers of this delicately flavored loaf make wonderful sandwiches. Try it between 2 slices of whole wheat grain bread with a little ketchup and a slice of pickle for a "banquet on bread".
1 14 oz. can salmon, drained and flaked
1/2 cup liquid egg substitute
2 slices whole wheat bread, (1 ounce slices)
crumbled in your Cuisinart
2/3 cup regular nonfat dry milk
1/2 cup finely chopped green bell pepper
1/4 cup finely chopped onions
1 teaspoon lemon juice
1 teaspoon dried basil
1/2 teaspoon grated fresh lemon peel *
1/2 teaspoon dried parsley
1/4 teaspoon salt
1/4 teaspoon pepper
1/4 teaspoon dry mustard
1/4 teaspoon celery seed
Preheat oven to 350°.

Spray a 4 X 4 or 4 X 6-inch loaf pan with nonstick cooking spray.

In a large bowl, combine all ingredients, mixing well. Spoon mixture into prepared loaf pan, pressing gently into loaf.

Bake, uncovered, 50 minutes, or until top of loaf is golden.

Let stand 5 minutes, then remove loaf to a serving plate. Pass the ketchup.

* Lemon Zest (peel): Lightly grate just the yellow from the lemon making sure you don't go down too far. You do not want to grate the white beneath the yellow.


Nutrition Facts (7 PP)
Amount Per Serving: Calories 278 - Calories from Fat 70
Percent Total Calories From: Fat 25%, Protein 47%, Carbohydrate 28%
Totals and Percent Daily Values (2000 calories): Fat 8g, Saturated Fat 2g, Cholesterol 59mg, Sodium 935mg, Total Carbohydrate 20g, Dietary Fiber 0g, Protein 32g, Vitamin A 868 units, Vitamin C 14 units, Calcium 0 units, Iron 2 units

Bon appetit!