s
e
a
f
o
o
d
S
Lime & Cilantro Salmon
2 servings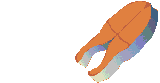 2 8 ounce salmon filets or steaks
1 teaspoon garlic powder
1/4 teaspoon salt
1/2 teaspoon black pepper
1 Tablespoon extra virgin olive oil
1/4 cup lime juice
1/4 cup chopped fresh cilantro
1 teaspoon Splenda or Equal
Sprinkle the top of the salmon with garlic powder, salt and pepper. Place the salmon in a nonstick skillet over medium-high heat and cook 4 to 5 minutes.

Meanwhile, in a cup mix the olive oil, cilantro and sugar substitute.

Turn over the salmon, cover with cilantro mixture, COVER and lower heat to medium; cook another 4 to 5 minutes.