s
e
a
f
o
o
d
S
Honey & Soy Glazed Salmon
4 servings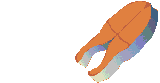 4 6oz salmon filets
2 Tablespoons honey
2 Tablespoons lite soy sauce
1 1/2 Tablespoons lime juice
2 teaspoons Dijon mustard
1 Tablespoon water
1-2 teaspoons canola oil
Whisk together the honey, soy sauce, lime juice, Dijon mustard and water in a bowl. Set aside.

Heat oil in a medium non-stick skillet over medium-high heat (Note: Use a screen over the pan now because that oil snap, crackle and pops.) and cook filets for about 3 minutes on each side. Remove filets to plates.

Add honey mixture to the skillet and simmer, stirring, for 1 minutes. Spoon glaze over filets.


Nutrition Facts (6 points)
Amount Per Serving: Calories 257 - Calories from Fat 74
Percent Total Calories From: Fat 29%, Protein 55%, Carbohydrate 16%
Totals and Percent Daily Values (2000 calories): Fat 8g, Saturated Fat 1g, Cholesterol 88mg, Sodium 442mg, Total Carbohydrate 10g, Dietary Fiber 0g, Protein 34g, Vitamin A 204 units, Vitamin C 2 units, Calcium 26 units, Iron 1 units

Bon appetit!