s
e
a
f
o
o
d
S
Honey & Orange Glazed Salmon
4 servings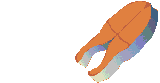 4 6oz salmon filets
2 Tablespoons fresh orange juice
1 Tablespoons honey
2 Tablespoons lite soy sauce
1/4 cup catchup
dried oregano
lemon pepper seasoning
Whisk together the orange juice, honey, soy sauce and catchup in a bowl. Set aside.

Sprinkle the filets with oregano and a light sprinkling of lemon pepper seasoning and rub in. Heat some olive oil in a medium non-stick skillet over medium heat and cook filets on each side until almost cooked.

Now brush (or pour) the glaze on each side of the salmon and complete cooking. Note: Use a screen over the pan now because that sauce snap, crackle and pops.


Nutrition Facts (6 PP)
Amount Per Serving: Calories 264 - Calories from Fat 52
Percent Total Calories From: Fat 20%, Protein 52%, Carbohydrate 27%
Totals and Percent Daily Values (2000 calories): Fat 6g, Saturated Fat 1g, Cholesterol 88mg, Sodium 292mg, Total Carbohydrate 17g, Dietary Fiber 0g, Protein 34g, Vitamin A 368 units, Vitamin C 6 units, Calcium 26 units, Iron 1 units

Bon appetit!